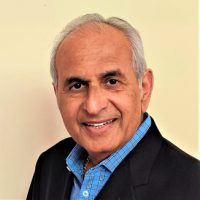 Sandeep serves as Chief Executive Officer of Ajira AI LLC, a Chicago, Illinois area technology start-up he founded in July 2017. He previously founded and successfully sold two technology start-ups to public companies. Ajira AI was launched in 2017 to bring artificial intelligence and digital transformation to P&C Insurance. Sandeep has worked extensively in the insurance, healthcare, banking and telecommunication industries. He is results focused, and excellent at strategy, planning and execution.
He previously co-founded and was CEO of PCS, a 28 year old premier, IT consulting and application development firm. PCS was founded in Chicago in 1990. Sandeep grew the firm organically to over 100 employees and 26 Fortune 500 customers. In 1997, he established an off-shore company in India to leverage the diverse pool of technology talent. He managed and grew PCS successfully over the years through three recessions without debt.
Sandeep and his business partner Steve Pazol launched a start-up nPhase LLC that was spun off from PCS in 2000. After growing the company organically for four years, they raised $3MM in capital at the end of 2003. The start-up developed highly successful, proprietary software products for the emerging machine-to-machine (M2M now called IoT) market. It created new technology that was successfully patented. Steve and Sandeep sold nPhase to Qualcomm (NASDAQ:QCOM), a Fortune 200 company, at the end of 2006 providing strong returns to its shareholders.
In 2004, his firm PCS was engaged by a Fortune 50 company to build a workers compensation claims system. After completing the project successfully in 2006, he realized that workers compensation and other commercial insurance markets were highly fragmented and underserved with respect to quality software products. He decided to pursue this opportunity. Between 2007 and 2009, PCS built a completely integrated multi-line capable software platform named InsuranceExpert. Workers Compensation was the first line of business released on the platform in 2010.
Vikaran Solutions was a start-up Sandeep launched in 2010 to take the new InsuranceExpert platform to market. He took the start-up from a 'back of the napkin' idea through successful product development and launch; customer acquisition and award winning implementation to a successful sale. Vikaran developed and sold InsuranceExpert primarily to workers compensation carriers with plans to expand into other commercial lines of insurance. InsuranceExpert was a state-of-the-art insurance value chain platform that included Policy, Billing, Claims, Premium Audit, Payment Processing, Reinsurance, Agency Portal, Customer Portal, Business Partner Portal and a Claimant Portal. In 2015, the company was sold to a public entity in an accretive transaction for its shareholders. It has since been taken private. After serving a two year employment contract Sandeep resigned to found Ajira AI LLC in 2017.
Sandeep holds an MBA from The Institute of Management, Development & Research, India and a BA from Fergusson College India. He is a member of the Economic Club of Chicago by invitation.